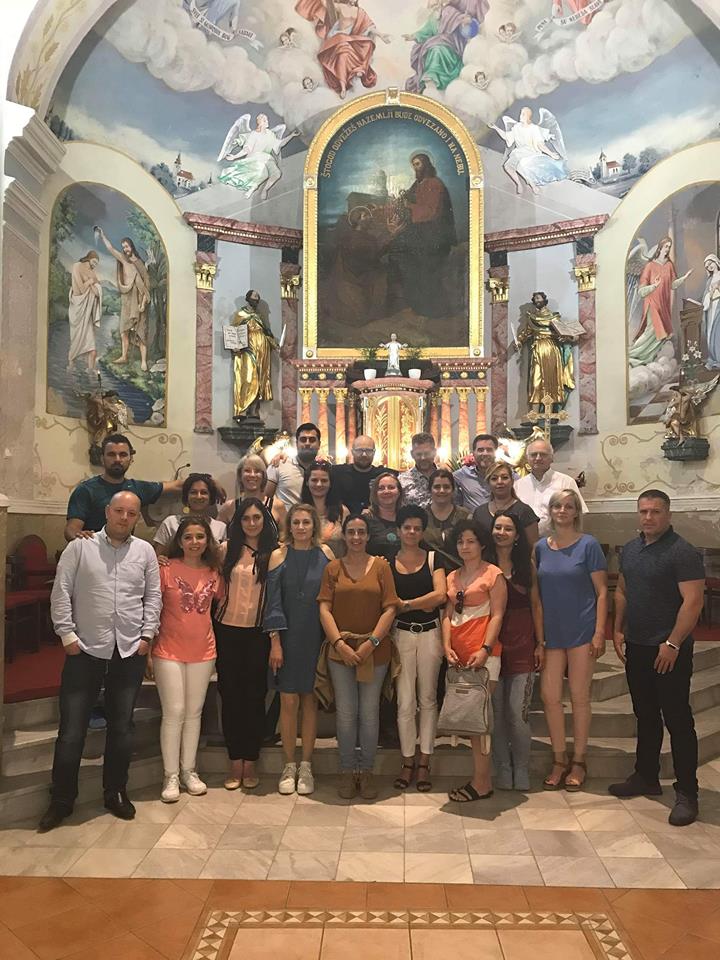 The short term teacher training event was lectured by Jasminka Belščak , IT teacher in Croatian school. The course participants got a Certificate of active participation. The competences acquired were validated by the course organisers on the Europass mobility.
The participants consisted of teachers whose competence in spoken interaction, spoken production, writing, listening and reading is minimum B1 level. The participants were chosen from the teachers who have the spirit of project, open to innovations, new methods and practices in learning activities, have the desire to learn other cultures and new lifestyles. As this course is about Web 2.0 tools, the participants will have the average standards of ICT skills.
04th of June 2018
1) Word of welcome
2) Presentation and tour of the school
3) ICT workshop:
a) e-Tools developed and used in Croatian schools (e-Matica, e-Diary)
b) Pilot-project e-School
c) WEB 2.0 (1-3)
4) Visit to the mayor of Petrijanec and the local priest (interview)
5) Sightseeing municipalities Petrijanec
05th of June 2018
1) Visit to the mayor of Varaždin, the mayor of Varaždin County and the bishop (interview)
2) Sightseeing of Varaždin
3) ICT workshop:
a) Webportal edu.hr
b) STEMI – Croatian spider-robot for education
c) WEB 2.0 (4-5)
06th of June 2018
1) ICT workshop:
a) PAFF – Petrijanec amateur film festival
b) WEB 2.0 (6-7)
2) Presentation of the minority Bayash culture and traditions (interview)
07th of June 2018
1) ICT workshop:
a) National project and webportal "Five of the Net" about safe use of the Internet
b) WEB 2.0 (8-9)
2) Visit to:
a) Trakošćan castle and lake
3) Teachers' meeting- the Progress of our Project; Q&A
08th of June 2018
1) Visit to town Varaždinske toplice (Aqua Iasae) – town old more than 800 years
2) ICT workshop:
a) Scratch
b) mBot
c) WEB 2.0 (10-11)
3) Traditional songs and dances in Petrijanec and Croatia
4) Certificates of attendance, Europass Mobility Certificates
WEB 2.0 Tools:
1) QR Code: a) QRStuff – how to make QR
b) QR Code Reader – how to use QR in School
2) Easy collaboration: a) Padlet b) Noteapp
3) Brainstorming and mindmapping: a) Coggle b) Bubbl.us
4) Presentation tools: a) Prezi b) Emaze
5) Tools for making comics: a) ToonDoo b) Pixton
6) Interactive pictures: a) Pictochart b) Thinglink
7) Video tools: a) For making movies i) Stupeflix ii) Kizoa
b) For animated videos i) PowToon ii) Moovly
8) Making newspaper and timelines: a) Penzu b) Timeglider
9) E-Book: a) Slidesnack b) Flipsnack
10) Publishing: a) Calameo b) ISSUU
11) Tools for e-learning and exams: a) BookWidgets b) Kahoot c) Kubbu
At the end of the course, Project partners had the sufficient information about how to make an online survey, online questionnaire, creating videos, creating an animated movie and what to do with the materials they gather at the end of the activities, videos, evaluation papers, results of the questionnaires, photos taken and how to publish them through Twin Space and the website. By the help of this training event, teachers are now able to create animated movies about the mobility in UK to celebrate the International Animation Day in 28th of October in 2018.